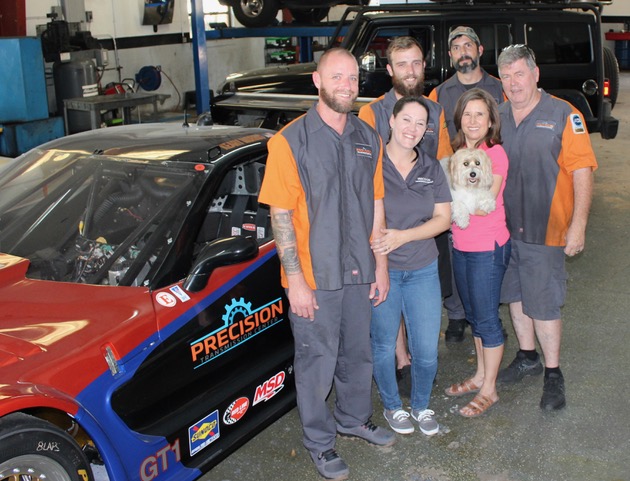 About Precision Transmission Center
At Precision Transmission Center, we are small enough to know you and large enough to serve you. We are a highly skilled and effectively trained transmission rebuild, service, and repair facility, servicing your vehicle to the highest standards possible.
ASE Certified Technicians
We are ASE certified in every aspect of automotive repair and hold additional certifications–which makes us the best choice for your vehicle repair needs.
Highest of Standards
At Precision Transmission Center, we hold ourselves to the highest standards and strive to always follow our Code of Ethics. We have extensive experience in Domestic, Asian, and European automobiles from all manufacturers and will solve your auto problems, or help you prevent them!
Factory Training
Our techs are factory trained for many of today's most popular manufacturers. Our factory training means you can rely on us to service and repair your vehicle to the highest manufacturer standards.
We want your vehicle repaired right so we offer the latest computer diagnostics which allows us to correctly identify the problem and repair your vehicle.
Transmission Repair Experience
With over 30 years of experience in the transmission rebuilding industry, our techs are highly skilled and certified to perform the following services:
Automatic Transmission
Manual Transmissions
Trans-axles & Transfer Cases
Differentials & Clutches
C/V Axles
4×4 and All Wheel Drive
Heavy Duty Tow Packages
High-Performance Upgrades
Trucks, Buses & Motor homes
High-Performance Import Transmissions
High-Performance Import Trans-axles
Classic Cars & Trucks
Contact us for your Automatic Transmission, Manual Transmission, Trans-axle, Differential, and Transfer Case repairs. We'll take the time to correctly diagnose your vehicle and explain every step of the way through the repair process. We look forward to working with you
About Precision Transmission Center in Daytona Beach FL
Serving Clients in the Greater Florida Area:
Daytona Beach | Port Orange | Holly Hill | Ormond Beach | Deltona | Palm Coast | New Smyrna Beach | Ponce Inlet | Edgewater De Land | St Augustine Beach | Sanford | Altamonte | Oak Hill | Scottsmoor | Orlando